Storage silos demolition
Among some of Vitali Group's demolition works carried out with the use of demolition vehicles equipped with long reach arms, there is a very interesting one that was executed at the old Civitavecchia harbour; the demolition of silos used for the storage of materials placed on the Civitavecchia harbour quay (the so-called glass pier), quays 7 and 8.


The area on which stood the site to be demolished is located inside the historic harbour, more specifically the area between quays 7-8 better known as Molo del Bicchiere, it is almost rectangular in shape, measuring approximately 65 m x 230 m with a maximum height of 47 m from the ground. 
The industrial complex developed longitudinally parallel to the quay sides. The "buildings" to be demolished were more than half a century old, so demolition had to be carried out very carefully. Some structural portions had lost their reinforcement structure and their stability was solely dependent on the internal concrete core. The structures of the circular silos all showed a widespread state of substantial damage, aggravated by the reduced thickness of the now oxidised reinforcements. The general conditions of the site required the use of mechanical means suitable for special controlled demolitions.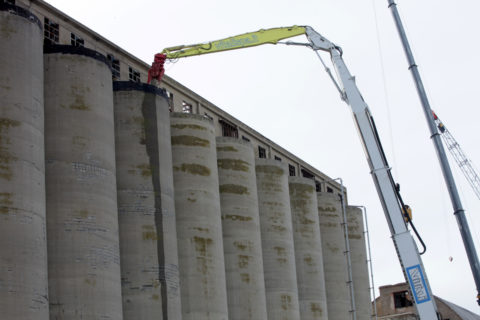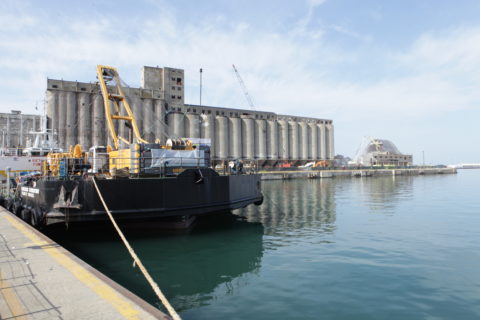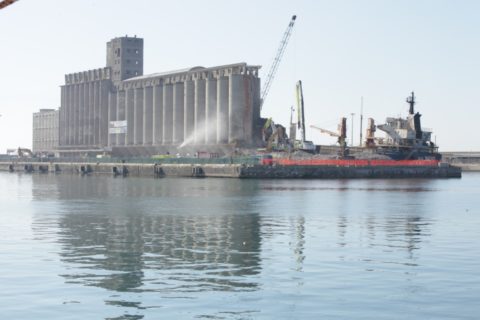 To complete this intervention, just like all other operations, the Group has adopted innovative technologies and specific treatments that, during a second phase, have allowed the recovery and reuse of demolition materials, taking into account environmental sustainability. The operation lasted about 2 months, in full compliance with the deadlines set by the client. The work was carried out using 2 crawler demolition vehicles, one of which was 120 metric tons equipped with a telescopic boom reaching a height of more than 50 meters and equipped with a 2.5 metric tons hydraulic grapple and a 40 metric tons excavator equipped with a 5 metric tons hydraulic grapple.


This type of contract, extremely delicate due to the complexity of the operation to be performed, requires high qualifications in terms of engineering competence and vehicle fleet. In addition, the design and execution of a demolition project is planned down to the smallest detail, with the objective of reducing any type of risk to a minimum, in full compliance with safety standards and estimated time frames.