Special demolitions: competence acquired through experience
Evolution blends with tradition. Vitali Group has rightfully earned a leading role in special demolitions and environmental reclamation, thanks also to the use of cutting-edge technology and machinery. Compliance with deadlines and budget, efficiency, competence and quality are the strengths of the company, also in the demolition sector.
Our experience is transversal and embraces all areas of operation. We specialise in:
induced collapse demolition using controlled implosive systems;

reclamation of large disused industrial areas;

restoration work on buildings of historical interest;

mechanical dismantlement;

demolitions with robots and hydraulic equipment for any height;

radio controlled demolition;

night-time interventions, requiring great precision and speed;

industrial decommissioning.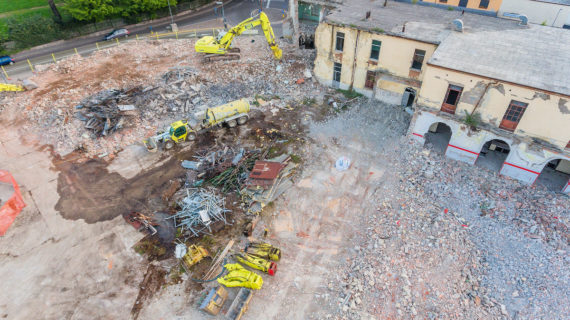 There is no challenge for our team that cannot be resolved. We carefully plan all demolitions, from start to finish, mainly because safety is essential in these interventions.
Our employees and experienced operators are capable of carrying out all types of special demolitions: Vitali S.p.A.'s fields of action are numerous and the skills acquired over the years are countless, offering our customers an excellent quality service.
Versatility is our strong point and, combined with the extensive experience in the sector, we are able to range from special demolitions to reclamation of industrial sites.